Recent Pressure Washing Scam Acts As A Reminder To Check For References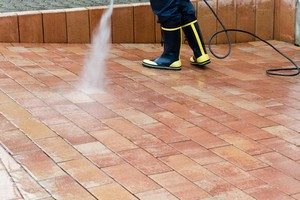 February of last year, residents of Polk County, Florida were in for a surprise. A trio of men passing themselves off as a professional pressure washing company made their way door-to-door, but were also conning seniors with repair scams in the process.
Not only that, the work they did do they had business carrying out, because they lacked the proper licensing and insurance. That means that if someone got hurt on the job, the homeowner would have been the responsible party. While the damages from this incident we re minimal, it should act as a reminder to be diligent in your selection process when hiring someone to pressure wash your home, or take care of any type of professional task for your home.
Be Careful Who Does Your Pressure Washing
Wilmington locals are pretty savvy, but no one is above getting duped. The tricks to hiring a qualified and reputable industry expert to power wash your exterior include, but are not limited to:
Do not work with someone going door-to-door. Unless you have initiated the service by making a call to an established company, it's better to steer clear of someone approaching you with a service offer.
Above all else, never work with someone lacking the required license and insurance, and make sure it is current. There is no reason to take a gamble like this.
Do a background check of the company, including things like checking with the BBB for good standing and taking the time to contact references.
Some telltale signs should also be details like attire and even the work truck a so-called pro arrives in. A uniform and truck with an identifiable logo matching the name of the company you contacted is a must.
Trust your instinct. A large percent of victims of crimes say they got a bad feeling about the person who ended up conning or victimizing them in some way. Keep your blinds drawn and avoid letting someone in your home that only needs access to the exterior, in the event that they may be casing your home. Do not give out any personal information, especially about your daily schedule or that you have a trip coming up and will be away for an extended period of time.
Make the Wise Choice
Of course, you can avoid all of this simply by contacting the Pro Pressure Washing team. We are a family owned business and our only professional concern is expertly taking care of the needs of you and your family. No amount of financial savings is worth running the risk of accidentally letting con men have access to your house, even for exterior pressure washing services.
If you are looking for a Wilmington Pressure Washing Professional then please call 888-998-7767 or complete our online request form.
Reference: http://www.fox13news.com/news/local-news/polk-sheriff-warns-about-pressure-washing-scam