Roof Cleaning Tips For Wilmington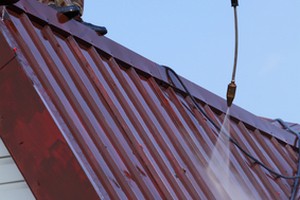 As roof cleaning experts in the greater Wilmington area, Pro Pressure Washing can offer you some good advice.
Roof cleaning is important to avoid damages from algae and debris. High humidity and frequent rain or storms are a problem for roofs. Algae thrives in shaded areas of the roof.
If you want to avoid roof repairs and early replacement, we want you to know why it's so important to choose experienced roof cleaning professionals.
Choose Professional Wilmington Roof Cleaning
Choose an experienced Wilmington pressure washing company if you want to safely clean your roof.
Roofing materials are vulnerable to high-powered pressure washing. Many power washing contractors will not be properly trained and will damage the shingles.
Commercial power washing machines are much stronger than any you can get as a homeowner. This is why soft washing techniques need to be used by professionals who clean roofs.
Soft washing won't damage asphalt, clay, brick, windows, and other vulnerable materials. The surfaces are still cleaned much better than home pressure washing machines.
Roof stains are often caused by algae growth. The professional soft washing technique eliminates the algae and removes the roof stains.
About Roof Cleaning Chemicals
If you have looked around, you have seen roof cleaning chemicals that can be sprayed on the roof by the homeowner.
Whether it's a professional or homeowner who cleans the roof, the chemicals used can be bad for the roofing materials.
There are biodegradable, safe soft washing chemicals used by many professionals for roof cleaning. Phosphates are taken out of the chemicals so they can break down into carbon and/or water.
Pro Pressure Washing always uses safe techniques for Wilmington roof cleaning.
About DIY Roof Cleaning
The pressure washing machines rented or sold to homeowners aren't as effective as commercial machines. The roof cleaning solutions available are nowhere near equal. And, the hoses aren't long enough for you to go up on the roof to clean.
DIY roof cleaning by pressure washing from the ground doesn't get your roof clean for more than a week or two. So the only thing left is to try going up there to clean it some other way.
Safety is important, and so is your roof. A Wilmington roof cleaning professional will save you from all that hard work and possible injury.
For more information about Wilmington Roof Cleaning, please Pro Pressure Washing at 888-998-7767 or complete our online request form.